Automatic honey spoon filling sealing and pillow bag packing machine
Product Detail
Product Details
OUR ADVANTAGES
VIDEO
CUSTOMERS' FEEDBACKS
SOME OF TRANSACTION HISTORY
CERTIFICATE
OUR FACTORY
Product Tags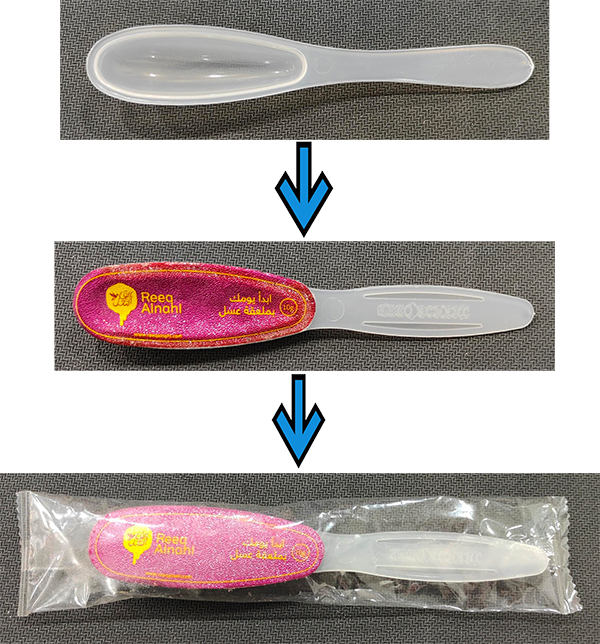 The full automatic machine, small occupied space.Touch control type intelligent operation panel, PLC control system.Sealing film with independent temperature control system.The whole machine is made of stainless steel and aluminum alloy, firm and smooth, never rust.The finished product is automatically the entire column output.
Pillow bag packing machine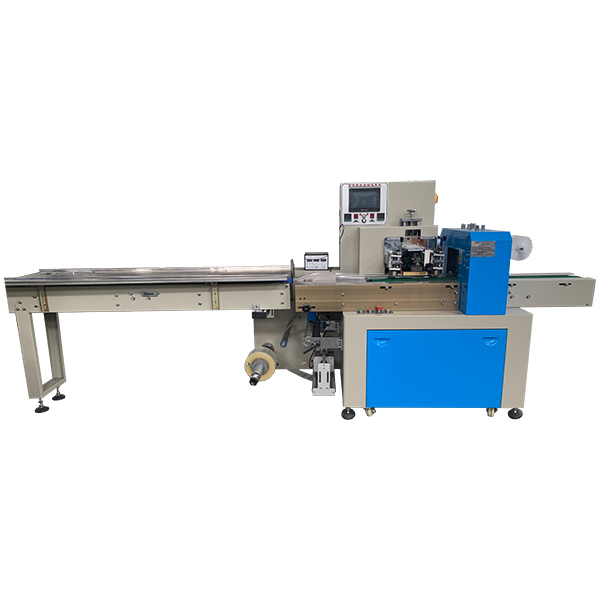 This pillow bag packing machine is used to fold roll film to pillow shape, and pack the spoons, seal the film, finally cut them to be one and one packed products.
It's widly used in food, chemicals and pharmaceuticals industries, like: candy, soap, pen, medicine, cake, bouillon cube, snack, ,daily supplies,cosmetics, hardware, meat chest, biscuit,bread, paper box or tray, etc, various solid objects.

1. Reasonable and reliable design based on experience of manufacturing and serving customers from more than 50 countries worldwide.
2. Honey contact parts adopt 304 stainless steel structure to meet food cleanness requirement.
3. High filling accuracy: ±1%.
4. 100% good sealing after machine well adjusted.
5. High quality main motor to ensure high working stability .
6. It can automatically detect and set the length of the packet. 
7. The main control circuit adopts PLC, frequency converter, good human- machine interface, centralized intuitive operation, convenientoperation.
8. packing speed and bag length adopt double convertercontrol.
9. It adopts infinit evariable speed, extensive adjustment, which perfectly match with frontal process of productionline.
10. High photosensitive electronic eye tracks figure position and bag length automatically.
11.The sealing temperature of machine adopts independent control which suit various packing material,the sealing is perfect andstable.
| | |
| --- | --- |
| Voltage (V/Hz) | AC 380/50 220/60(Customized) |
| Sealing Power (W) | 2500 |
| Filling Accuracy | ±0.1% |
| Capacity | customized |
| Filling method | Piston pump |
| Temperature Range | 0-400℃ |
| Sealing film Material | PE/ALU-FOIL/PP/PET/PE |
| Film Type | Pre cut film |
| Hopper heating method | Electric heating |
| Bag film material | OPP/CPP/PT/PE/ALU-FOIL |
Offer professional operation manual

Online support

Video technical support

Free spare parts during warranty period

Field installation, commissioning and training

Field maintenance and repair service
---
---
1.Honey filling and sealing machine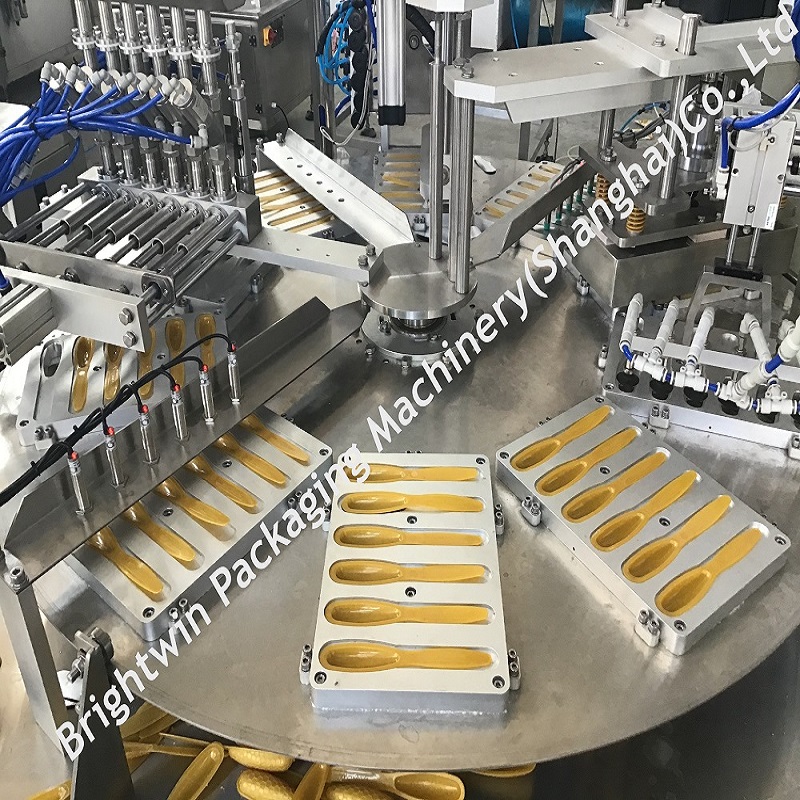 Overviews: The full automatic machine, small occupied space.Touch control type intelligent operation panel, PLC control system.Sealing film with independent temperature control system.The whole machine is made of stainless steel and aluminum alloy, firm and smooth, never rust.The finished product is automatically the entire column output. Main features: 1. Reasonable and reliable design based on experience of manufacturing and serving customers from more than 50 countries worldwide. 2. It is fully 304 stainless steel structure to meet food cleanness requirement. 3. High filling accuracy: ±1%.   4. 100% good sealing after machine well adjusted. 5. PLC touch screen control for easy operation. 6. High quality main motor to ensure high working stability .   Technical Parameters:
| | |
| --- | --- |
| Model | BW |
| Voltage (V/Hz) | AC 380/50 220/60(Customized) |
| Sealing Power (W) | 2500 |
| Filling Accuracy | ±0.1% |
| Capacity | customized |
| Measure way | Cup measure |
| Temperature Range | 0-400℃ |
| Film Material | PE PP PET/PE |
| Film Type | Pre cut film |
| Hopper | (Can be customized) |
| Dimension (L×W×H)(mm) | 1000*1000*1600(Can be customized) |
| Net Weight (kg) | 500 |
2. Pillow packing machine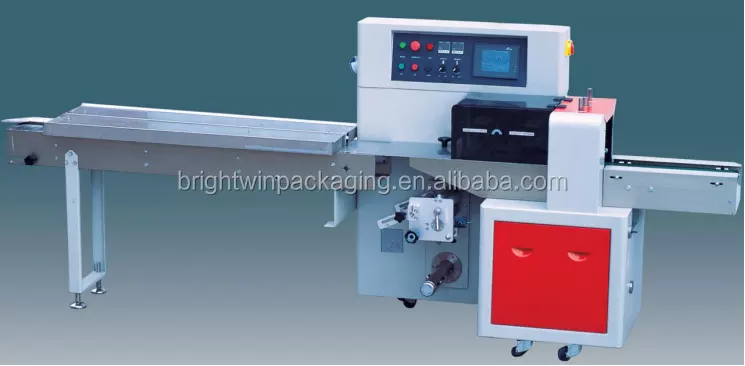 Performance and feature: 1. It can automatically detect and set the length of the packet. It owns double frequency structure, easy maintainability,less wear and longlife. 2. The main control circuit adopts PLC, frequency converter, good human- machine interface, centralized intuitive operation, convenientoperation. 3. packing speed and bag length adopt double convertercontrol. 4. Itadoptsinfinitevariablespeed,extensiveadjustment,whichperfectlymatch with frontal process of productionline. 5. High photosensitive electronic eye tracks figure position and bag length automatically. The sealing temperature of machine adopts independent control which suit various packing material,the sealing is perfect andstable. 6. The packaging material comes from the under the machine, which can convey the product easier and better, it is especially for two or more goods in one package or light products.   Application: This kind of machine can pack various solid object which are meat chest, biscuit,bread,moon cake,candy,medicine,daily supplies,cosmetics, hardware, paper box or tray and soon. Specification:
| | |
| --- | --- |
| Type | BW-2000 |
| Packing speed | 25-225bags/min |
| Bag size | (L)35-200mm (W)35-100mm (H)5-35mm |
| Film width | 60-240mm |
| Packing material | OPP/CPP,PT/PE,KOP/CPP,ALU-FOIL |
| Dimension | (L)3900X(W)850X(H)1150mm |
| Total power | 380v 60Hz (can be customized) |
| Overall weight | 750kg |
After sales service:
Offer professional operation manual
Online support
Video technical support
Free spare parts during warranty period
Field installation, commissioning and training
Field maintenance and repair service
Write your message here and send it to us
Products categories